Roasted Squash, Spinach and Goats Cheese Tartlets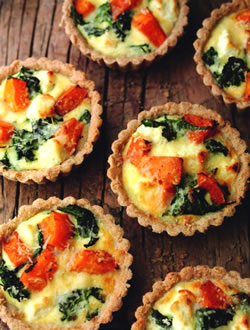 Recipe
250g prepared butternut squash
1 tablesp. olive oil
Salt and freshly ground black pepper
225g spinach, washed and large stalks removed
150g Goats cheese
2 large eggs
200ml double cream
40g Farmhouse cheese, finely grated
For the oatmeal pastry:
175g plain flour
175g oatmeal
¾ tsp salt
75g butter
75g lard or white vegetable shortening, cut into pieces
2 tablesp. chilled water, cut into pieces
Serves 6
Method
For the oatmeal pastry, put the flour, oatmeal and salt into a food processor or mixing bowl, add the butter and lard and work together until the mixture looks like fine breadcrumbs. Stir in the water with a kitchen knife, or process briefly, until the mixture comes together into a ball. Knead briefly on a lightly floured surface until smooth.
Divide the pastry into 6 even-sized pieces. Roll each piece out on a lightly floured surface and roll out into approximately 15cm discs. Use to line 6 lightly buttered 10cm tartlet tins that are 3cm deep. Chill for 20 minutes.
Meanwhile, preheat the oven to Gas Mark 6, 200ºC (400ºF). Cut the prepared butternut squash into 2.5cm sized pieces. Place in a roasting tin with the olive oil and some salt and pepper and toss together. Spread out in a layer and roast for 20 minutes or until just tender.
Line the tartlet cases with squares of crumpled greaseproof paper and a thin layer of baking beans and bake blind for 15 minutes. Remove the paper and beans and return to the oven for a further 5-6 minutes until crisp and biscuit-coloured. Meanwhile, heat a large pan over a medium-high heat, add the spinach and cook for 2-3 minutes until it has wilted down into the base of the pan. Tip into a colander and gently press out the excess liquid. Season. Break the goats' cheese into small pieces.
Remove the tartlet cases from the oven and lower the oven temperature to Gas Mark 5, 190ºC (375ºF). Arrange the pieces of roasted butternut squash, spinach and crumbled goats cheese in the tartlet cases. Beat the eggs and cream together in a jug with 25g of the grated cheese and some seasoning. Pour into each tartlet case and sprinkle with the remaining grated cheese. Place on a baking sheet and bake for 20 minutes until set and lightly golden. Serve warm.
Stuffed Baked Cabbage Leaves with Cheese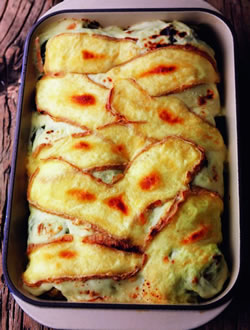 Recipe
100g brown basmati rice
Salt and pepper
1-2 large green cabbages, such as Savoy
15g butter
8 rashers smoked dry cured streaky bacon, chopped
1 medium onion, chopped
2 garlic cloves, crushed
1 tablesp. chopped thyme leaves
2 tablesp. chopped sage
1 teasp. paprika
250g minced pork
250g minced beef
450ml vegetable stock
For the sauce:
1 small onion
4 cloves
500ml milk
1 bay leaf
½ tsp black peppercorns
30g butter
30g plain flour
Freshly grated nutmeg
200g cheese, thinly sliced
Serves 6
Method
Cover the brown rice in cold water and leave to soak for 10 minutes. Meanwhile, boil the kettle. Drain the rice, tip into a non-stick pan and add 200ml boiling water and a pinch of salt. Bring to the boil, cover and cook over a low heat for 25 minutes. Leave to cool.
For the sauce, stud the onion with the cloves and put into a pan with the milk, bay leaves and peppercorns. Bring to the boil and set aside to infuse with the flavours.
Meanwhile, remove 12 bright green leaves from the outside of the cabbages. Use the remainder of the cabbage for another meal. Drop the leaves into a pan of boiling salted water and cook for 2 minutes. Drain and refresh under cold water. Cut out and discard the thickest part of central stalk.
Melt the butter in a pan, add the bacon and fry until cooked but not browned. Add the onion and garlic and continue to cook for 5-6 minutes until the onion is soft but not browned. Tip into a mixing bowl and leave to cool.
Preheat the oven to Gas Mark 4, 180ºC (350ºF). Add the cooked rice to the onions with the chopped herbs, paprika, minced pork, minced beef, ½ teasp. salt and some black pepper. Mix together well with your hands. Divide the mixture into 12.
Place one portion of the stuffing into the centre of each cabbage leaf, fold in the sides and roll up. Place side-by-side, seam-side down, in a lightly buttered shallow ovenproof dish. Pour over the stock, cover the dish with foil and bake for 30 minutes.
For the sauce, strain the infused milk into a jug. Melt the butter in a pan, add the flour and cook for a few seconds. Remove from the heat and gradually stir in the milk. Return to the heat and bring to the boil, stirring. Simmer for 3-4 minutes. Remove from the heat and season to taste with nutmeg, salt and pepper. Preheat the grill to high.
Drain away any excess stock from the baking dish. Pour the sauce over the cabbage leaves and cover with the sliced cheese. Grill for 2-3 minutes until golden and bubbling. Serve.
Roasted Field Mushrooms with Blue Cheese and Spinach
Large flat mushrooms are essential for this dish. Try to select slightly deeper mushrooms with curled up edges so that they have plenty of space for the filling.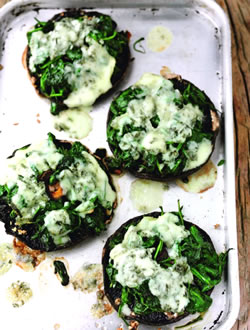 Recipe
8 evenly-sized large field mushrooms (each about 10cm in diameter), wiped clean
The leaves from 2 sprigs of thyme, chopped
3 garlic cloves, 2 finely chopped, 1 left whole
4 tablesp. extra virgin olive oil, plus extra to serve
2 tablesp. freshly squeezed lemon juice
15g butter
500g spinach, washed and large stalks removed
Salt and freshly ground black pepper
150g blue cheese, thinly sliced
4 x 1cm thick slices rustic white bread
Serves 4
Method
Preheat the oven to Gas Mark 6, 200ºC (400ºF). Place the mushrooms in a shallow roasting tin and sprinkle with the thyme, garlic, olive oil and lemon juice. Roast for 10 minutes.
Meanwhile, heat the butter in a large pan, add the spinach and stir-fry it over a high heat until it wilts down into the bottom of the pan. Tip into a colander and press out the excess liquid. Season to taste with salt and pepper.
Remove the mushrooms from the oven and top with the spinach and sliced cheese. Return to the oven for 3-4 minutes, until the cheese has just melted.
Meanwhile, toast the bread until golden. Rub each slice with the whole garlic clove and drizzle with a little olive oil.
Place each slice of toast into the centre of a warmed plate and place 2 of the mushrooms on top. Spoon over the juices from the roasting tin, and serve.
Braised Red Cabbage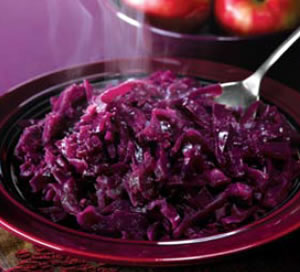 Recipe
100g light muscovado sugar
½ teasp. ground cinnamon
¼ teasp. ground cloves
Good pinch of freshly grated nutmeg
900g red cabbage, trimmed, stalks removed and cut into 1cm slices
450g onions, finely chopped
450g cooking apples, peeled, cored and finely chopped
4 tablesp. red wine vinegar
Juice of 1 orange
25g butter
Salt and freshly-ground black pepper
Serves 10
Method
Preheat the oven to Gas Mark 4, 180ºC (350ºF).
Place the sugar in a bowl with the cinnamon, cloves and nutmeg and stir to combine. Arrange a layer of the cabbage in the bottom of a large casserole dish and season to taste.
Scatter a layer of the onions over the seasoned cabbage, followed by a layer of the apples and sprinkle some of the flavored sugar on top. Continue layering in this way until all the ingredients have been used up, finishing with a layer of the seasoned cabbage. Pour the red wine vinegar and orange juice into the casserole and dot the butter on top.
Cover the red cabbage mixture tightly and bake on the bottom shelf of the oven for about 2 hours, stirring every 30 minutes until the cabbage is meltingly tender.
Celery with Herby Butter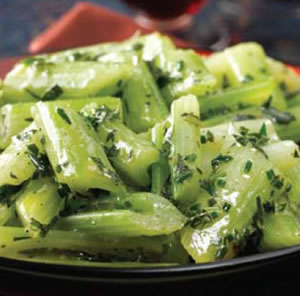 Recipe
2 heads of celery
50g butter
2 tablesp. red wine vinegar
2 tablesp. fresh chives and tarragon, chopped
Salt and freshly-ground black pepper
Serves 8
Method
Wash and trim the celery stalks and cut into strips approx. 4cm long. Place in a saucepan, add a little salt and barely cover with cold water. Bring to the boil, reduce the heat and simmer for five minutes.
Meanwhile melt the butter in a small pan, add the vinegar and cook for two minutes. Stir in the herbs and seasoning. When the celery is cooked, drain well and then pour the herby butter over the celery. Serve immediately.
Roasted Vegetables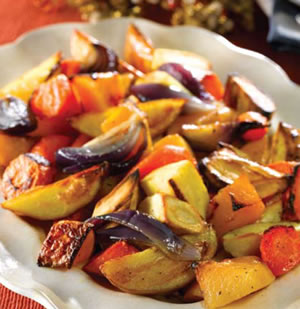 Recipe
700g each of carrots, parsnips and white turnip, peeled and chopped into 5cm chunks
700g potatoes, scrubbed and cut into wedges
2 red onions, peeled and cut into eight, through the root
Olive oil
Salt and freshly-ground black pepper
Cooking time
20-30 minutes
Serves 8
Method
Preheat the oven to Gas Mark 6, 200ºC (400ºF).
Put the vegetables in a large bowl and drizzle generously with olive oil and season with salt and pepper. Transfer them to a roasting tin and spread out into a single layer.
Cook for 20-30 minutes until tender.
Brussels Sprouts with Chilli and Lemon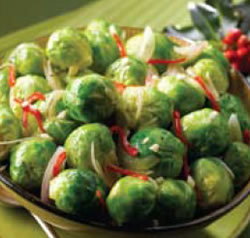 Recipe
1 kg Brussels sprouts, trimmed
1 tablesp olive oil
2 shallots, finely sliced
2 garlic cloves, finely sliced
1 red chilli, deseeded and thinly sliced
Squeeze of lemon juice
Salt and fresh-ground black pepper
Serves 8
Method
Trim the sprouts and place in a saucepan of boiling salted water. Reduce to a simmer and cook for 5-8 minutes depending on the size of the sprouts. While they are cooking heat the oil in a pan and sauté the shallots, garlic and chilli for a couple of minutes over a medium heat. They should be soft and not coloured.
When the sprouts are cooked drain them well, then stir through the shallots, garlic and chilli mixture along with a squeeze of lemon juice and salt and black pepper to taste.
Mashed Potatoes with Wholegrain Mustard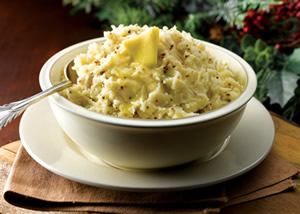 Recipe
1½ kg potatoes, peeled
300mls milk
75g butter
2 tablesp. wholegrain mustard
Salt and freshly-ground black pepper
Serves 6-8
Method
Place the potatoes in a large saucepan and cover with boiling salted water. Bring to the boil then reduce the heat and simmer until just soft.Drain and keep warm.Heat the milk and butter then beat it into the potatoes with the mustard and seasoning until smooth and creamy.
Perfect Roast Potatoes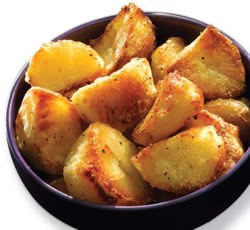 Method
The most important thing to remember for perfect potatoes is not to roast them too long in advance as they lose their crunch if you keep them waiting. Start by par-boiling the peeled potatoes for approx. 5-6 minutes, depending on size. Drain well and set aside.
Set oven to Gas Mark 6, 200°C (400°F). Heat some oil or fat from the turkey on the baking tray. Place the potatoes on the hot tray. Sprinkle with salt and roast for 40-50 minutes.
Shallots, roasted with the potatoes, are also delicious.
Organic Salad with Roasted Vegetables, Salad Leaves and Cheese
This makes a perfect lunch with some crusty bread.
1-2 aubergines
8 unpeeled garlic cloves
3 tablesp.olive oil
2 red peppers, halved and deseeded
2 tablesp. balsamic vinegar
4 scallions, finely sliced
8-10 black olives
Salt and black pepper
Salad leaves, generous handful per person
200g cheese
Preparation time
30 mins
Serves 4
Method
Slice the aubergines lengthwise and mix with 6 of the garlic cloves and 1-2 tablesp. of the oil. Spread out on a baking sheet. Season well. Roast until tender – 20 minutes.
Grill the peppers until well blackened. Cover with a tea towel and leave to cool. Then remove the skins and cut into strips.
Whisk the vinegar with the remaining oil in a large bowl, peel and chop the remaining garlic and add to the bowl. Mix in the aubergines and peppers, scallions and olives. Taste for seasoning. Tear up the salad leaves, arrange on a large platter, top with aubergine mixture and sprinkle with cheese.
Serving Suggestions
Serve with crusty bread.
Colcannon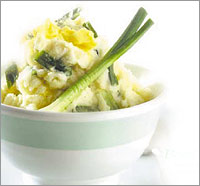 Recipe
1kg (2 lbs) potatoes, freshly cooked and mashed
250g ( ½ lb) kale, just cooked, drained and finely chopped,
or bunch of scallions, (spring onions) finely chopped
Milk, butter, salt and black pepper
Serves 4
Method
Mix potatoes and kale/scallions together. Heat some milk with a generous knob of butter. Beat it into the potato mixture until smooth and creamy. Season well.
Potato, Turnip and cream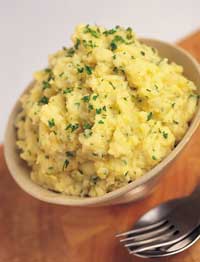 Recipe
500g/1 lb turnip, peeled and diced
1 medium potato, peeled and diced
3 tbsp. cream
Salt and black pepper
1 tbsp. freshly chopped parsley
Cooking time
15 mins
Preparation time
10 mins
Method
Put the diced turnip and potato in a pot of boiling water with enough water to cover them.
Simmer until tender for about 15 minutes. Drain off the water.
Mash the potatoes and turnip.
Stir in the cream. Season to taste with salt and black pepper and sprinkle with the parsley.
Garlic and Lemon Roasted Potatoes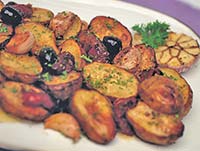 Recipe
750g/11/2 lbs new potatoes, (small to medium in size), scrubbed not peeled
2 tbsp. lemon juice
1 large bulb of garlic – split into separate whole cloves – don't peel!
4 sun dried tomatoes, quartered
4 black olives, sliced
4–5 dashes of Tabasco sauce
1/2 tsp. Worchester sauce
1/2 tsp. Soya sauce
4 tbsp. vegetable stock
3 tbsp. olive oil
A bunch of parsley, chopped
(If you do not have any vegetable stock make up a vegetable stock cube instead)
Serves 4
Method
Preheat the oven to 200°C/400°F/Gas 6. Cut the potatoes into halves lengthways. If you can buy really small new potatoes use them whole.
Put the oil into the bottom of a large bowl. Add all the ingredients except the stock and parsley. Toss with a large spoon until all the contents are coated in the oil.
Empty the contents into a shallow roasting tin. Put into the preheated oven and roast for approx. 30 minutes. Halfway through the cooking time add the stock, stir and replace for the remaining time. When the potatoes are tender and the contents are slightly charred remove from the oven.
Serving Suggestions
Serve in a colourful dish with the parsley sprinkled on top.
St Patrick's Potatoes
These are very rich so a little go a long way. And the trick to this dish is to cook them very slowly, so that the cream doesn't curdle.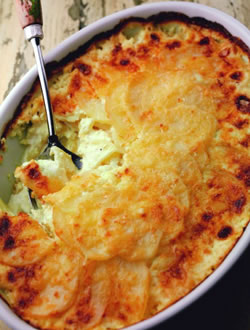 Recipe
1kg medium-sized potatoes
1 large garlic clove, finely chopped
100g well-flavoured farmhouse cheese
Salt and freshly ground black pepper
300ml milk
300ml double cream
Serves 6-8
Method
Preheat the oven to Gas Mark 1, 140ºC (275ºF). Peel the potatoes and cut them into thin slices. Overlap one-third of the slices over the base of a buttered 2.¼ litre shallow ovenproof dish and sprinkle with half the chopped garlic, one-third of the grated cheese and some salt and pepper. Repeat the layers once more, then finish with a final layer of neatly overlapped potatoes.
Warm the milk and cream together in a pan with a little more seasoning to taste. Pour over the potatoes and sprinkle with the remaining cheese.
Bake for approximately 1½ hours until the potatoes are tender when pierced with the tip of a knife. Cover very loosely with a sheet of foil part-way through cooking after the top has become nicely golden.