Bacon is the most popular of meats in Ireland. If you can get your hands on Irish bacon for these recipes you will get the true taste of Ireland. If not, that's perfectly fine. You will still get the taste of good home cooking!
Glazed Loin of Bacon with pea and potato mash
If you're short of time you could serve the pea and potato mash with pan-fried bacon chops, which take no more than 15 minutes to cook. For a really smooth light and fluffy mash, use an electric mixer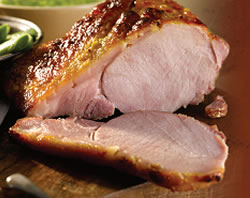 Recipe
750g loin of bacon or ham joint
675g floury potatoes cut into chunks
175g frozen peas
2 teasp. good quality mustard
50g butter
1 tablesp. demerara sugar
100ml milk
Salt and freshly gound white pepper
Good pinch of ground cloves
Baby leeks, to serve
Cooking time
1 hour
Serves 6
Method
Place the loin of bacon in a pan of water. Bring to the boil, then reduce the heat and simmer gently for 20 minutes per 450g.
Set the oven to Gas Mark 4, 180C (350F). Drain the loin of bacon and then score the fat in a diamond pattern. Spread over the mustard. Mix together the sugar and cloves in a small bowl and sprinkle all over the mustard in an even layer. Roast for 20 minutes until the top is nicely glazed and the joint is completely cooked through. Leave to rest in a warm place for 10 minutes.
As soon as you have popped the bacon into the oven, steam the potatoes for 15-20 minutes until just tender. Cook the frozen peas in a separate small pan for 3-4 minutes.
Drain the peas and then return to the pan. Season and then add the butter and milk. Blitz with a hand blender until you have a smooth puree. Mash the potatoes until very smooth, then fold in the pea puree until well combined. Season to taste.
Carve the loin of bacon into slices and arrange on warmed plates with the pea and potato mash.
Ciabatta Egg Dipped BLT
This has to be the ultimate bacon sandwich! It's a good idea to cook the bases of the ciabatta first so that you can start assembling the sandwiches whilst the tops are cooking. Just make sure that your heat is not too high, otherwise the bread may brown
Recipe
4 eggs
2 tablesp. Milk
Freshly ground black pepper
1 large ciabatta loaf
About 2 tablesp. olive oil
12 smoked streaky bacon rashers, rinds removed
1 tablesp. good quality mustard
2 tablesp. of reduced fat mayonnaise
2 tablesp. tomato ketchup
Handful of Arugula
4 small vine tomatoes, finely sliced
Cooking time
15 minutes
Serves 4
Method
Crack the eggs into a shallow dish, add the milk, season and mix well to combine. Cut the ciabatta
loafinto four even-sized pieces and then cut each one open so that you have eight separate pieces. Place each piece of the bread, cut-side down in the egg mixture. Leave to soak for a minute before turning over.
Heat a large frying pan and add half of the oil, then add the soaked bases of ciabatta, cut- side down. Cook over a medium to low heat -2 minutes until golden brown, then turn over and cook for another two minutes.
Meanwhile, preheat the grill. Arrange the bacon on a grill rack and cook for a couple of minutes on each side until really crispy. Keep warm.
Remove the ciabatta bases from the frying pan and keep warm. Add the remaining oil and then add the tops of the ciabatta. Cook as described above.
Mix together the mustard and the mayonnaise in a small bowl. Just before serving, spread half the mustard mayonnaise over the bases, next add a little ketchup, the rocket, a layer of tomato slices and season with the black pepper. Top with the bacon. Finish by spreading the remaining mustard mayonnaise on to the top half of the eggy bread.
Serving Suggestions
Arrange on warmed plates and serve immediately.
Penne Pasta with Spicy Tomato Sauce and Sizzling Bacon
This is the kind of pasta dish that is perfect for when there's nothing much left in the fridge. It is very easy to prepare, and great served with a lightly dressed rocket salad. If you haven't got passata, simply replace with a can of chopped tomatoes.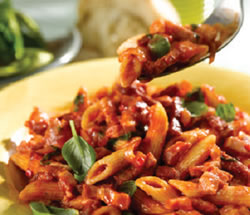 Recipe
350g penne pasta
1 tablesp. olive oil
175g piece rindless streaky bacon or streaky rashers, cut into small thin strips
1 small onion, finely chopped
2 garlic cloves, finely chopped
1 teasp. sweet or smoked paprika
1 red chilli, seeded and finely chopped
400ml passata (sieved tomatoes)
Pinch of sugar
Small handful fresh basil leaves, roughly torn
Salt and freshly ground black pepper
Serves 4
Method
Tip the penne into a pan of boiling, salted water, stir once, then cook for 10-12 minutes until 'al dente' or according to packet instructions.
Meanwhile, heat the olive oil in a saute pan and fry the bacon for a couple of minutes until crispy.
Add the onion and cook for another minute or two until softened, stirring occasionally. Add the garlic with paprika and chilli and cook for about 30 seconds, stirring. Stir in the passata and cook for 1-2 minutes until heated through. Add the sugar and season to taste.
When the pasta is cooked, drain well and then return to the pan. Pour in the tomato mixture and add the basil, then fold everything together until well combined.
Bacon, Spinach and Blue Cheese Tart
This tart is delicious hot or cold. If you haven't got the correct flan tin use a similar sized small baking dish or roasting tin, which will do the job just as well. This is perfect for using up leftover ham or bacon from a joint.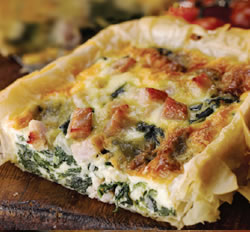 50g butter, plus extra for greasing
100g cooked ham or loin of bacon, cut into cubes
1 small onion, finely chopped
350g fresh spinach, washed, well drained and tough stalks removed
5 sheets filo pastry, thawed
75g blue cheese
3 eggs
6 tablesp. of reduced fat creme fraiche
Salt and freshly ground black pepper
Lightly dressed green salad and boiled new potatoes, to serve
Serves 4
Method
Preheat the oven to Gas Mark 4,180C (350 F). Lightly butter a 35 x 11cm loose-bottomed flan tin. Heat a large non-stick frying pan. Add a knob of the butter and cook the onion for 4-5 minutes until softened but not coloured. Stir in the spinach and cook for a few minutes until wilted, stirring. Turn the mixture into a sieve and press well with a wooden spoon to squeeze out all of the excess liquid.
Melt the remaining butter in a small pan or in the microwave. Lay one sheet of filo across the base of the tin with the edges slightly overhanging the sides. Brush with melted butter. Repeat with the remaining sheets, arranging them at different,
overlapping angles.
Spoon the spinach and onion mixture into the pastry case and scatter the ham or bacon on top, then crumble over the blue cheese. Beat together the eggs, creme fraiche and seasoning in a bowl, then pour into the pastry case. Bake for 30
minutes until the filling is set and the filo pastry is golden. Serve cut into slices and arranged on plates with salad and new potatoes.
Bramley Apple And Bacon Sandwich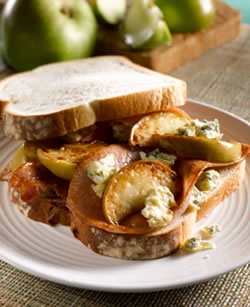 Recipe
1 tsp vegetable oil
6 rashers back bacon
1 Bramley Apple, quartered, cored and sliced
4 slices thick white bread
Butter for spreading
25g soft blue cheese, crumbled
Cooking time
10 minutes
Preparation time
5 minutes
Serves 2
Method
Heat the oil in a non-stick frying pan, add the bacon and cook over a medium heat for 67mins, turning once until golden and crisp. Transfer to a plate and keep warm.
Add the Bramley apple slices to the pan and sauté over a medium heat for 3mins or until tender and golden.
Remove from the heat.
Butter the bread and top two slices with the bacon and apples. Crumble over the cheese and top with the remaining slices of bread. Cut in half and serve.
BLT , Bacon Lettuce & Tomato with Fried Egg
The original and the best home alone treat!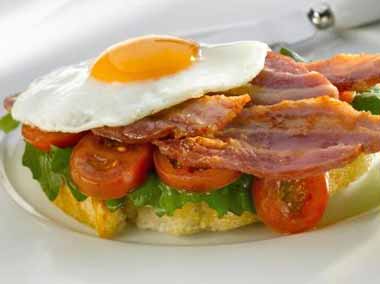 Recipe
A slice of decent bread
Drizzle of olive oil
Arugula leaves
3 cherry tomatoes, sliced
Two slices streaky bacon, cooked crispy
1 egg, fried
Cooking time
5 min
Serves 1
Method
Grill the bread with the olive oil, top with the arugula, tomatoes and bacon slices, finish with the fried egg, delicious!
Traditional Bacon and Cabbage with Mustard Sauce
This is comfort food at its best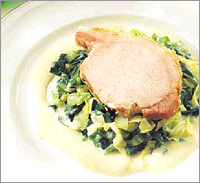 Recipe
1 ½ kg loin of bacon
1 carrot
2 celery sticks
2 leeks
1 teasp. peppercorns
Topping
1 tablesp. mustard
1 tablesp. oven-dried breadcrumbs
½ tablesp. brown sugar
Knob of butter
Mustard Sauce
50g butter
25g flour
1 tablesp. mustard
250ml mixture cooking liquid and cream
1 kg cabbage, finely sliced
Serves 4-6
Method
To Cook: Place the joint in a large saucepan. Add chopped vegetables and peppercorns. Cover with cold water. Bring to the boil, then simmer gently for approx. 20 minutes per ½ kg. Set oven to Gas Mark 6, 200ºC. Remove the joint from the saucepan. Reserve liquid. Remove the rind and score the fat. Place the joint on a roasting dish. Spread with mustard and breadcrumbs, sugar and a knob of butter. Place in the oven for 15-20 minutes.
To Make the Sauce: Melt the butter, add the flour and mustard. Cook for a minute or two. Whisk in the cooking liquid and cream. Bring to the boil. Reduce the heat and simmer for 3-4 minutes. Taste for seasoning. The sauce should have the consistency of thin cream. Keep warm.
To Cook the Cabbage: In another saucepan cook the cabbage lightly with some of the cooking liquid. Drain well and toss in butter. Season to taste. Slice the bacon and serve on the bed of cabbage, a little of the mustard sauce and of course floury potatoes.
Bacon & Bean Stew
Real Food and Economical Too.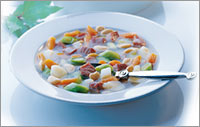 Recipe
450g Quality Assured Bacon pieces, diced, or buy a shoulder joint, trim and dice
1 onion, finely chopped
2 leeks, chopped
2 carrots, chopped
4-6 potatoes, peeled and chopped
1-2 cloves garlic, chopped
Sprig of thyme
1 can butterbeans, drained
Black pepper
1 tablesp. cream (optional)
1-2 tablesp. parsley, chopped
Serves 4
Method
Place the bacon in a large pot. Cover with cold water, bring to the boil, then pour off the water. Rinse the bacon and return to the pot. Cover again with cold water and add the onion, leeks, carrots, potatoes, garlic and thyme. Bring to the boil. Reduce the heat and simmer gently for 40 minutes. Stir in the beans, black pepper, cream and parsley and simmer for a further 10-15 minutes. Taste for seasoning. Serve in deep bowls with crusty bread.
Bacon, Black Pudding and Goat's Cheese Pizza
Great Combination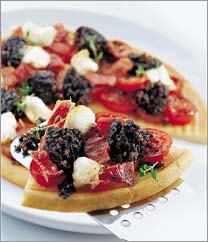 Ingredients
1 ready prepared pizza base
1 tablesp. passata – sieved tomato, or 2-3 sliced tomatoes
2-3 slices Quality Assured streaky Bacon, diced and cooked
2-3 slices of black pudding, cooked and crumbled
50g (2 oz) goat's cheese, cut into small pieces
A few sprigs of thyme
Serves 1-2
Method
Set oven to the maximum. Spread the tomato mixture or sliced tomatoes over the base. Sprinkle on the bacon and black pudding, then the cheese and thyme. Bake for 10-15 minutes until crisp and the cheese has melted.
Bacon and Regatto Scramble
A special breakfast treat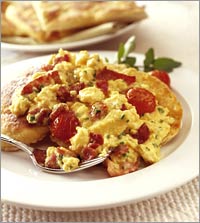 Recipe
2-3 streaky rashers, diced
6 cherry tomatoes
4 eggs
2 tablesp. milk
2 tablesp. grated Regatto cheese
2 tablesp. chives, chopped
Salt and black pepper
Soda bread to serve
Serves 2
Method
Sauté the bacon in a non-stick pan until fully cooked. Add the tomatoes and cook for 1-2 minutes. Beat the eggs with the milk, cheese, chives and seasoning. Add the mixture to the cooked bacon and continue cooking over a gentle heat until just scrambled. Serve on toasted buttered soda bread.
Leek and Bacon Tart
This is a favorite tart.
Recipe
275g plain flour
Pinch of salt
150g butter
2 egg yolks
3 tablesp. approx. very cold water
Filling
225g streaky bacon, diced
4 leeks, trimmed, washed and sliced
6 eggs
100g creamed cheese
1 tablesp. mustard
Pinch of cayenne pepper
Salt and black pepper
Serves 6-8
Method
Sieve the flour and salt into the food processor bowl. Cut the butter into pieces and add to the flour. Whizz the mixture until it resembles fine breadcrumbs. While it is still whizzing add the egg yolks and just enough water to combine the dough. Wrap the dough in cling film and place in the fridge for 30 minutes. Preheat the oven, Gas Mark 6, 200°C.
Roll out the pastry thinly. Line a 28cm flan dish. Remove any air pockets. Prick the base with a fork and bake blind for 15-20 minutes.
To Make the Filling
Cook the streaky bacon in a hot pan until crisp. Add the leeks and continue to cook for 3-4 minutes. Remove from the heat. In a large bowl beat the eggs, creamed cheese, mustard, cayenne pepper and seasoning together.
Add the leeks and bacon. Pour the filling into the baked pastry case and bake for a further 35-40 minutes.
Serving Suggestions
Serve warm. A mixed leaf green salad makes the perfect accompaniment.
Bacon Pasta with Pesto
The Pesto recipe here is very simple and delicious – but there are some good brands available if time is really short.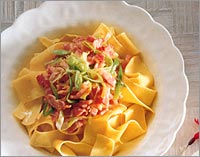 Recipe
450g dried chunky pasta shapes – such as rigatoni or penne
1 tablesp. oil
8 slices quality assured streaky bacon, diced
1 chilli, finely chopped
Pesto
1 large bunch of fresh basil
50g pinenuts
50g regato cheese, chopped
2-3 garlic cloves, chopped
4-6 tablesp. groundnut or olive oil
Serves 4
Method
Add the pasta to a large saucepan of boiling water and simmer until just done, 7-8 minutes approx. Drain but keep a few tablesp. of the cooking water. This will help the sauce cling to the pasta and adds a certain creaminess. In a large pan cook the bacon in hot oil until crisp. Stir in the chilli and 1-2 tablesp. of the cooking liquid. Remove from the heat.
To make the Pesto:
Whiz the basil, pinenuts, cheese and garlic together in the processor. Add the oil gradually.
Serving Suggestions
Place the pan back on the heat. Stir in the pasta and heat through. Add enough pesto to flavour well. Left over pesto holds very well in the fridge and is a great addition to lots of meals and quick snacks.
Ham Sandwich with Wholegrain Mustard Dressing
This sandwich is always a winner.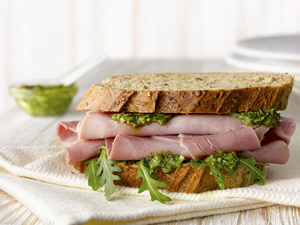 Recipe
Sliced cooked ham
Wholegrain bread
Butter
Salad leaves
Herb Relish
20g each of mint, tarragon and basil
40g flat leaf parsley
2 cloves garlic, roughly chopped
4 scallions, chopped
4-6 tablesp. olive oil
1 tablesp wholegrain mustard
A squeeze of lemon juice
Salt and freshly-ground black pepper
Serves 1
Method
First make the dressing. Whiz the herbs, garlic and scallions in a food processor. Then add the oil in a stream until you have a thick green sauce. Pour into a bowl and stir in the mustard and lemon juice. Season with salt and pepper.
Spread slices of freshly cut bread with a little butter and add a small pile of salad leaves to the bottom half. Drizzle over a little of the dressing and arrange plenty of ham on top. Add another good drizzle of the dressing then cover the sandwich with the top half of the bread.
Smoked Rack of Bacon with Red Currant Glaze
The whole family will love this dish. Un-smoked bacon can also be used.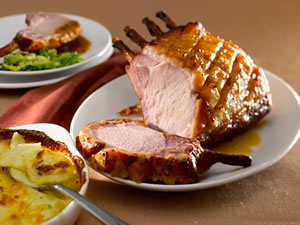 Recipe
1 x 1½kg rack of bacon, bone-in and smoked if possible
6 peppercorns
1 bay leaf
1 onion, peeled and chopped
Glaze
Zest and juice of 1 orange
2 tablesp. whole-grain mustard
4 tablesp. redcurrant jelly
Preparation time
90 minutes
Serves 6
Method
Place the bacon in a saucepan with the peppercorns, bay leaf and onion and cover with cold water and a lid. Bring to boil, then turn the heat down to a gently simmer and cook for one hour.
Meanwhile prepare the glaze – place all the glaze ingredients in a small saucepan over a low heat. Stir until the redcurrant jelly melts.
Preheat the oven to Gas Mark 4, 180°C (350°F). Place the bacon from the water and place in a baking dish and allow to cool a little. Then remove the rind and excess fat. Brush over one third of the glaze and reserve the rest to serve with the bacon. Place in the oven for approximately 20 minutes until golden brown. Remove from the oven, over loosely with foil and allow to rest while to stir-fry the cabbage.
Thinly slice a head of cabbage. Place in a saucepan and barely cover with water. Cook for a couple of minutes then drain. Heat a little oil and butter in a frying pan. Add the cabbage and stir-fry for a couple of minutes. Season and serve with the bacon and reserved glaze.
Serving Suggestions
With baked, boiled or gratin potatoes and stir-fried cabbage