Kids are a hard lot to feed. You try to tell them that they have to eat right, and they do quite the opposite, especially if there are chips and other junk food around.
But shakes and smoothies are a different matter – which is why we should utilize the advantages of these kinds of delicious beverages.
Rich and healthy smoothies can be a sensational beverage downed by your child, not knowing that they just had something they wouldn't normally eat on a plate.
Why do kids and parents love smoothies so much? Well, just take a look at this list of benefits:
Smoothies, especially when served in tall, smoothie glasses, look like a very attractive and appetizing treat.
You can use simple and easy to find ingredients. Even over ripe fruits and no one would know the difference.
It's an ideal snack in between meals.
Recipes are flexible to account for each one's personal needs and taste buds. For example, even kids who are lactose intolerant can enjoy this beverage by substituting milk with yogurt or soy milk.
It's a great way to get kids to load up on the fiber and antioxidants that their body needs.
There are a variety of delicious and healthy recipes to choose from. Just open your copy of "Sensational Smoothies: Drink Your Way To Health Deliciously" to realize the endless combinations you can make.
Many Moms have learned never to leave the kitchen empty of smoothie ingredients. They always have yogurt, milk and fruit in my fridge so that whenever they hear kids' tummies grumbling even from afar, Mom can always whip up a batch of their favorite smoothies.
Here are some surefire kid-friendly smoothie recipes that will leave your kids asking for more:
Bananas are usually one of the most common fruits used for a smoothie. The simplest recipe for this just has 3 ingredients:
1 banana (cut up and frozen – to bring out its natural sweetness)
1 to 2 cups of milk
1 to 2 ice cubes (preferably crushed)
You can add ¼ teaspoon of vanilla if you choose.
Blend for about 30 to 45 seconds and serve immediately, while still cold.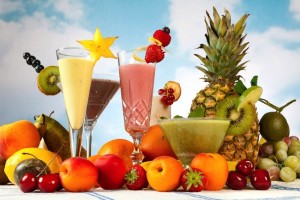 A strawberry banana smoothie has the following ingredients:
10 oz. fresh strawberries (stems removed)
2 frozen bananas
2 to 3 tablespoons of honey
a cup of ice cubes and ¾ cup of milk.
Blend and process until smooth. Serve immediately.
Kids are not the only fans of chocolate, I think a chocolate smoothie is like "a one size fits all" type thing. wouldn't you agree?
To make a chocolate and/or peanut butter aficionado:
blend 1 cup of vanilla yogurt
2 teaspoons of peanut butter
½ a cup of milk
¼ cup of ice
1 cut-up banana
and ¼ cup of chocolate chips.
Blend and process. Serve immediately.
Try a quick mango smoothie
1 cut and pitted frozen mango with ¼ cup of orange juice.
Blend it for 30 seconds or until smooth.
How about a silky peach smoothie?
Slice 1 whole peach and
add ½ cup of milk and 2 tablespoons of sugar
Process in a blender.
Add 4 ice cubes and blend until the ice crystals are nearly gone.
Add 3 tablespoons of vanilla yogurt and a cup of peach yogurt to enhance the peachy flavor.
Blend for a couple of minutes and serve immediately.
A kiddie power smoothie
1 frozen banana
¼ shredded wheat cereal (wheat germ or some protein powder can be used as substitutes)
and ¼ cup of milk.
Blend all ingredients and serve.
Orange lover smoothie
blend 1 cup of orange juice
2 scoops of ice cream
1 and ½ teaspoon of sugar
1 cup milk
1 cup of regular yogurt
Blend for about a minute or so until well-mixed. Pour into cups and chill for 10 minutes before serving.
In conclusion:
The best thing about smoothies is letting your imagination run wild. Be free to create your own smoothie recipes while letting your kids enjoy the healthy, life-giving benefits of a drink that makes them happy and healthy.
If you are on the look out for amazing diet smoothie recipes, do check out "Sensational Smoothies: Drink Your Way To Health Deliciously".
This amazing e-book contains over 180 smoothie recipes designed to keep you fit and happy. The recipes featured are kitchen tested and have been certified to taste as good as they are healthy.
=>Learn more about the smoothie e-book  here <=